A few friends and I went out to dinner a few weeks ago, and after dinner we decided to find a place to have an after dinner cocktail.  There was a bar nearby that looked pretty classy, so we decided to give it a try.  The drink menu  had a collection of unique and flavorful cocktails and was backlit with LED lights to allow patrons  to read the menu in the dimly lit bar.
 My friend gazing at the LED menu…
The bar also had some very interesting characters, including a three person band playing covers of old r&b and disco tunes, and a backup singer wearing a white prom style dress with matching white shoes (she was by no means in the age group of someone attending the prom), but that's another story…
We found one cocktail on the menu that was especially fantastic.  I typically don't like ginger or anything made with ginger, but I loved this cocktail, so of course I took on the challenge to re-create this drink in the comfort of my home.  Don't let the ginger scare you away from trying this drink; the combination of flavors is a great complement to the ginger.
Razzberry Ginger Fizz
Ingredients:
2 Ounces of Vodka
 1 /2 Ounce of Ginger Simple Syrup (see below for the recipe)
Fresh raspberries (10-12 for each cocktail)
Ginger Beer (not Ginger Ale, this is actually called Ginger Beer)
Lime wedges
Pinch of sugar
For the Ginger Simple Syrup
1 Cup of sugar
1 Cup of water
1/2 Teaspoon of fresh ginger, grated-I took a chunk of fresh ginger root, peeled it, then grated it using a microplane so it would grate finely.
Combine the sugar, water and ginger in a saucepan and bring to a boil.  Allow the simple syrup to boil for 2-3 minutes or until the sugar has dissolved.  Remove the syrup from the heat and allow to cool.  Once cooled, strain the ginger out of the simple syrup so you won't have chunks of ginger in the syrup.  I used a fine meshed sieve to strain the ginger.
Directions for Making the Razzberry Ginger Fizz
Place the raspberries, ginger simple syrup, vodka and juice from two lime wedges in a drink shaker.  Using a muddler, muddle the raspberries until they have turned to pulp (you'll need 10-12 raspberries per drink).
Using a strainer, strain the liquid into a glass; this will keep the raspberry seeds out of the drink.  Add ice to the glass, then fill the rest of the glass with Ginger Beer.  Garnish with a lime wedge and raspberry, if desired.
Related articles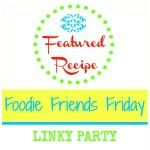 You Might Also Like: